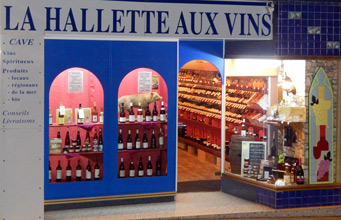 La Hallette aux vins à Portbail
Fifty meters from a pretty harbour, La Hallette is an original cosy friendly wine-shop, a place where you will be told stories of men and terroir from every part of beautiful France; a place where the cellarman is also a gifted sommelier who knows how to share the products he has discovered during his various Tours de France. From vintage to ready-to-drink wines you will be suggested genuine products by a passionate guest.
Le caviste et sommelier vous rapporte de ses périples et dégustations, en somme de ses tours de France, les meilleurs vins tant pour leurs qualités gustatives, sanitaires, humaines, géologiques mais aussi pour leur supériorité de par leur renommée et de par leur présélection effectuée par des professionnels des vins.
Vous sont présentés des grands et petits vins avec de vieux millésimes, des curiosités, des découvertes, toujours dans la sagesse du goût et du fameux.
La Hallette aux Vins, elle se visite, se découvre, se questionne, au fil du charme de ce lieu et de ses saveurs.